Keep in touch with your customers and send updates of your services/products
Would you like to contact instantly to your customers? Collect the mobile no.'s segment wise and quickly send a SMS to your customers at one go and get in touch with them.
Surprise your client by sending an e-greeting on their Birthday, Anniversaries.
Maintaining effective control of a large volume of contacts meant for personalized communication is a daunting task for anyone. ADROIT's Contact Management System allows you to not only exercise effective control of the contacts data, but also helps YOU to maintain efficient relationships with your contacts regardless of where they are based.
A slick and user-friendly interface makes Customers information (phone #'s, address, notes, files, activities, meetings etc) simple and easy to use. It collects, organizes, and tracks contacts information and makes it easy for you to use them and establish contact with them effectively. You also get to find your contacts easily with a search facility and display a detailed map of your contact information.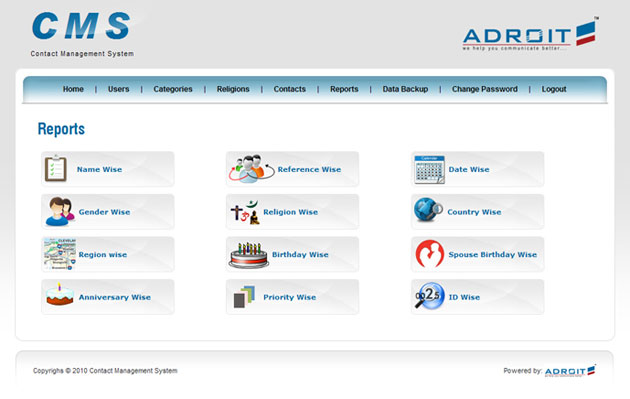 Customers will be clubbed in different User Segments, wherein each user will be given necessary permissions to use the CMS. New affiliated users can be added to the Group and each of them inherits all access rights set up for the group.
Features
Manage all User accounts from one central location.
Track all your Customers and their contact details.
Store Customers details such as name, company, phone numbers, addresses, web sites, email addresses, etc.
Use pre-defined database fields to easily record all Customers information.
View and Edit all Customers information, including email, etc in a single flow.
Request Demo Now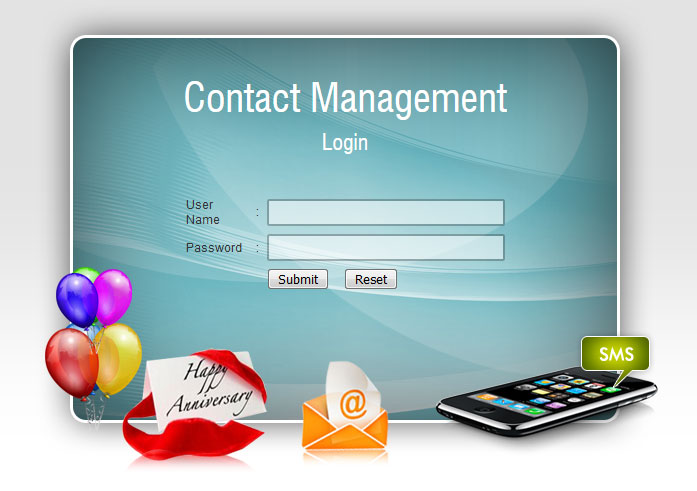 Click here for Demo
Need help for Contact Management System - CMS? Start here